well i like to watch Dance Moms!
who doesn't? the fact that six young dancers(or maybe seven if you include Kendall who happen to dance her way in in the middle of the season) can remember every dance move for just four days of practice and then ships off to any competitions and then bags at least top 1-5 in those competitions.
or maybe i am such a terrible dancer that watching them dance really amaze me
okay, that's not mainly the point why i watch dance moms too
here i listed down a few , why i think it's so interesting to watch this dance show hehe
1. There's always a catfight between moms or Abby lee in every episode
i still think this was the best catfight scene ever!
haha i mean normal days they would just sit there and torment each other, yelling each other and then cursing like their kids are not there,
but this time there was actually physical contact in it
until the producer of the show need to stop them infront of the camera
nah, i don't actually like to see lots of arguement on the show, but this is what takes the viewers off their seat , so it's not just a TYPICAL dance show , it's about their moms~
on how they willing to fight for their daughter's solo part, or how unfair Abby is treating them, and so on
no wonder the producer changed the name from JUST DANCE , to DANCE MOMS
i think the show would be boring without their existence anyway
2. Abby's favoritism towards Maddie
Who doesn't love Maddie, i mean if you were given a star on your doorstep, would you thrash her around and told her you's useless? nah, even Maddie did slacked a bit during season 3 and was not given a few solos , Abby did that so that she wanted Maddie to move forward, improve more,
and yes, Maddie was on top of the pyramid for 41 times all four seasons
and because of some biased issue going around, the other moms had spark quite a lot of jealousy over her mom, and some saying it's unfair to their daughters because Abby only has eyes on Maddie during competitions.
3. Maddie's breathtaking performance
nobody can deny the fact that Maddie is a wonderful dancer, have you seen the music video of Sia 's "Chandelier?"
yes you be thinking who's that girl dancing non stop like she didn't even hieve a breadth of tiredness around her (of course it could be cut and paste video, but if you watch the LIVE performance during Ellen DeGeneres' show, you know well, MADDIE, as an 11 year old girl (going to be 12 soon, or maybe she is 12 already lol) is a dancer you can't stop watching
not to mention, EACH and EVERY dance performances, she has this breath taking emotion going around her. Just so flawless ~
4.the comparison between Chloe and Maddie
Yes, Abby always compares Chloe with Maddie
Chloe was given the duets with Maddie
They both have to dance the same solo dance for the same competition
and when Chloe DID win for that competition, Abby went to check the marks and told the judge saying that there is a mistake on the calculations,
so Maddie was the crowning champion for that dance
i mean, Chloe was always second best no matter how much effort she puts in her dance
i don't blame her if her mom has some ill feeling towards Maddie's mom, because Abby is always pushing Chloe to dance like Maddie
which i think it's personally wrong because Chloe has a different style than Maddie
i think Chloe dances AS good AS Maddie (:
no doubt they are still friends even there's lots of tough competitions between them
5.Brooke and her boyfriendS
16 now , but her height is only 4 feet 11 so she blends well with the other dance kids who is around age 8-14( Chloe is 14 )
weird thing is her sister's Paige is growing taller than her like a head soon, and her mum defended saying that her grandma was a short person too
see? Paige is so much taller than Brooke here despite the age gap
(Paige will still be growing as she hasn't reach her projected height yet)
but what's making her interesting is that she always gets the boy
everytime she was paired up with a boy to duet with Abby always encourages her to go on a date with him , to make them understand each other better
gosh Brandon is hawwwt, he be joining the air force soon
(btw he's dating Kendall's sister now)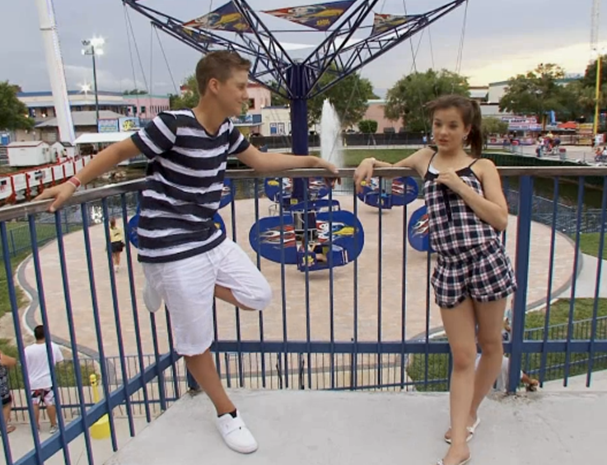 They liked each other, but it didnt turn out well
so now Brooke is with Nolan!
6. How Abby teaches them to dance by just giving them instructions
No actually she choreographs by just giving them instruction on what to do
i don't think she actually dances together with them because of her physical built (if you know what i mean)
she is a wonderful choreographer then,
and gosh, if you ever watch Abby's Ultimate Dance Competition, you know she is always particular at Technics, she can dictates which foot is off and which Technics is wrong
and kudos the girls for dancing by just listening to what she pictured them to do
i also do enjoy watching little Mackenzie dancing all the cute dances
*Mackenzie is maddie's little sister*
These are only my opinions
dont mean to offend anyone if i write something wrong here hehe