Hello, today it'll be just a simple outfit post courtesy from Persunmall.
So i wore this outfit to Penang .
okay, you may think i get it all wrong saying that this is a skirt and not a skort, even though the picture may have look like a skort after all all.
ahaha, but it is indeed PU leather as the material, it is quite top quality. (:
of course don't wash it with washing machine, do hand wash it to maintain it's top notch quality
Next up is their top. Seriously falls in love with the top!
It has horses as the prints, which is very very suitable for this Chinese New Year. This year is the Horse year, so i wore this outfit for Day 8 CNY.
and the material is chiffon type, which is very light and very suitable for the hot sunny days in Malaysia.
and sorry, i was suppose to take some photos near the mall within the beach and breeze, but ended up here in a small tiny fitting room with mirrors on two corners.
the actual piece from Persunmall.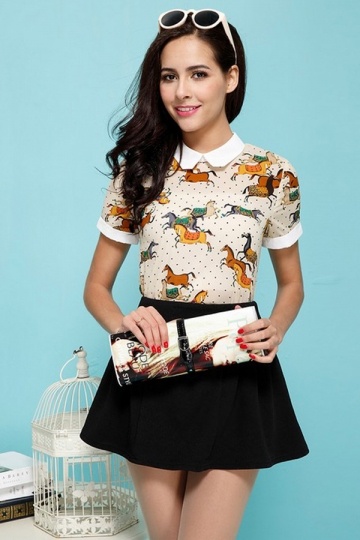 the lovely top. There are other different prints too available if you do not like this horse print. I like how the white collar and cuffs contrast together with the beige.
and last of all, thank you Persunmall for your wonderful clothes.
They have a clearance sale going on right now, so be sure to check it out and get clothes at low prices!
xoxo
ANN