Finally, this is my first wish list for Christmas after blogging for three years.
i don't believe in Santa, but when i heard that Santa Hermo is going down one of our chimneys , i am so excited to make my wish list for him to make it come true! Thanks The Butterfly Project Malaysia for collaborating with them.
yes, they are giving away Rm80 worth of product to lucky bloggers (didn't state how many, but i hope i am one of them) i saw lots of people wishing for Laneige product, but seeing that i still have a set of Laneige at home (my birthday gift, i'm not that rich) i make it a pass and focus on mask and make up ( :
1st: Shills Black Gel Mask Rm52.90 (after 34% off) usual price is Rm79
(click the picture to go to the atcual link of product)
I am attracted with this product because it has so many reviews on it, and those reviews were on the positive sides. Shills is from Taiwan and they have various stores around Malaysia. Any product that comes from the Asian country is quite suitable for Asian skin. here are the product description:
| | |
| --- | --- |
| | |
| | |
| | Firming, Controlling Oil, Moisturizing, Whitening |
| | |
| | |
| | |
| | Date Subject To Product Received. |
| | Genuine Product With Box. |
and now you can see why i am eyeing on Shills Black gel mask, the only problem i am facing right now is tons and tons of blackheads on my nose. and those tiny little bumps on my foreheads. From those reviews that i had read, a lot said that it makes the skin smoother and it is very well moisturize too. it can also whitens your skin making it brighter .
no kidding, three people i met in one month had just told me i had become darker.
It is good to tighten the pores too, and yeah! i can use it everyday.
and okay, a lot of people would wonder what's the ingredient inside (matters alot especially for sensitive skin people)
seeing that it is in chinese, mind you i'm half banana (i'm a chinese yet don't know chinese yet taking chinese for SPM! how cool is that =..='') and if you know chinese this picture will help .
NEXT wish list number two is : MISS HANA waterproof eye liner Rm26 (after 21%off)
The
minute i saw that

Hermo

has MISS HANA, i went bouncing from the living room to the bedroom and to the bathroom and back to the living room again.
ahaha, that was just a metaphor to tell that i seriously want this badly because of so many blogger reviewing it and it was on the positive side.
I do not like those eye liner where it would smudge and this is really a big deal when you are out whole day and you have that kind of panda eyes looking at other people obliviously and unaware that you had smudge your eyeliner. And ya, some eyeliner need to be drawn over and over again because it is not smooth enough (the color won't stay on too) so again and again you drew it like an angry reindeer. (*troll face*)
but this seem attractive, after reading reviews of bloggers out there.
Here's the product description!
Product:

Miss Hana Waterproof Eyeliner Gel Pen

Brand:

Miss Hana

Effect:

Modeling Eye

Capacity:

Made in:

Taiwan

Suitable For:

All Types

MFG:

Date Subject To Product Received. Approximately 3 Years Shelf Time

Caption:
ahaha a piece of my imagination.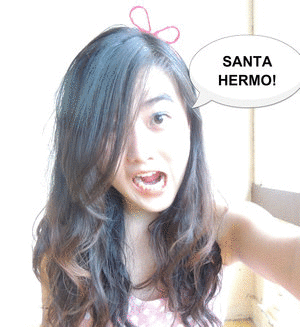 Here's how Bloggers can participate too!
1st step: Browse Hermo and look for products up to Rm80 that you love (i took three hours to pick my product, like literally just sat in my chair looking at products after products)
2nd Step: Make a wish list and link it to the product page!
3rd step: post it up! easy peasy simple-pimple! (yet forgive me for being quite late in posting due to STPM)
here's the period: 25th-14th DECEMBER: create your wish list on your blog
17th-24th December: Santa Hermo will grant you your wishes (if you're lucky and being a good girl)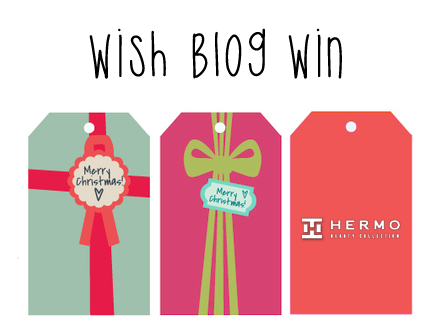 and

yeah, HERMO is having their christmas promotions too!
have a look at their website for all the sales in super value and you can get gift sets for your love ones too.
Here's the link to all the pages:
Butterfly
project Malaysia official facebook page: