been in uni for 2 months, stepping into the 3rd month here
yet there will be fun sometimes
but still people like to highlight the negative vibes more than the positive ones
here's how i highlight it
I can picture this last week, LAST WEEK was my final straw, if i ever survive that week i really salute myself
last week we have to pass up 5 assignments, not only that , 2 are from Pn Wang's class.You will know what i mean when i get to that subject ~
anyhow i think i take things easily, i find that i am actually beginning to be more dense than i used to be,
a lot of things i do not know, and if i ever were to answer somebody's question, alot of answers i gave was all uncertain . What have i become, straight A student? My foot! and then i realize,
in university, everything is different. No more studying just for an exam. Most of it are assignment based, group presentation, and everything, i'm not good at it, i don't know how to lead, i don't know how to interact, (

main problem maybe because i'm overly self conscious that if i buat terlebih-lebih, i might offend other people,

)
you know i always expect myself to get higher, getting a PASS is a relief to my parents but of course i'm sure they would like me to live up like my brother.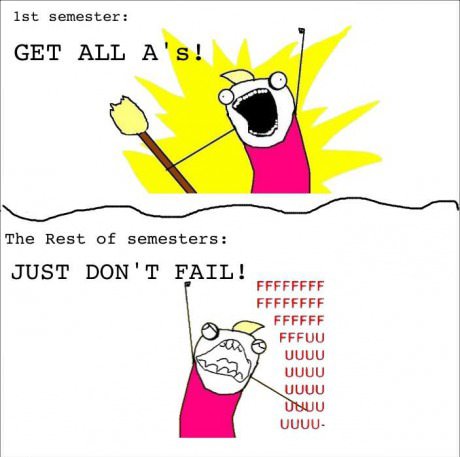 or maybe i'm still not used to it
may god bless me if i can't score my assignments may the final exam be as peaceful as it can be~
1.Pengantar Komunikasi Manusia
the only subject that speaks "English", what i meant was thank god they don't use words like ontology, axiology in it! and all are quite easy to understand because they write it plainly out with simple words so that we understand it easier. And the lecturers always give funny examples we can relate to . May god bless me with this.
2. YKT104
the only subject i find it hard to comprehend, not to mention with strings of scholars' book to read and all those different type of findings we suppose to differentiate, this is on the top list of my HARDEST subject ever. May god bless me that i will not flung this paper because our group presentation didnt went very well ):
3. Penulisan Media BM
every two weeks we hand in a newspaper like article with different themes, weee! that's all our work is done. i really hope so lah ~ *point fingers together*
4. Critical Thinking
Ya, it is not meant for those who cannot divide their brains into two. I somehow regret taking it up and should have just take up Japanese. But then after reading through his books, it's just the concept we have to comprehend and the rest will be history! *pumpfist* , but there's a lot of weird concept names so make sure to get everything right before you pump your fist up up in the air ! woo~ nih, actually if you are really free and would like to train your mind a bit, so no harm taking this course. (thing is my mind is all worked up for YKT104 till i have not much brain cells for this)
5. BM LKM400
the usual thing, haha not much to say
6. English
teacher is awesome! teaches well! never a dull moment (:
7. TiTAS
don't even mention it! the fact that one day i woke up 6.30 in the morning just to go to his class at 8am, and he went in at 8.15, let us out at 8.45 after we hand in our assignment. I give you a thumbs up ! (: